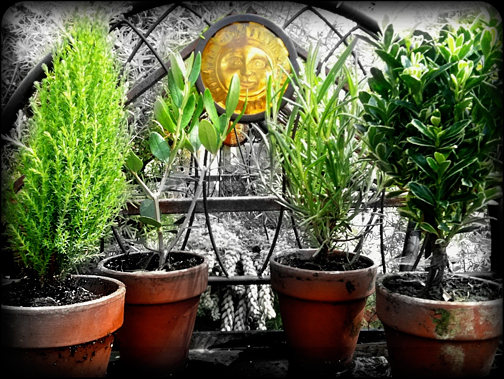 Just took this photo with my new iphone. I love its selective focus and macro capabilities. Makes it so much easier to share a quick picture.
In addition to just taking this snapshot with the iPhone I played around with the image with a few of the iPhone apps. Most notably one called color splash. I thought of it because I was having trouble getting focus on the little green plants with all the busy green plants in the background. I like the glass sun of my garden stand and I wanted to frame it with the trees but it wasn't working. With color splash it makes the whole image B&W and then you just use your finger to "paint" back in the color of the original image. You can zoom in to do fine detail or zoom out to do big brush strokes.
The other apps I used on this image was photogene to adjust the levels, color saturation and temperature. I also added the soft dark edge in this program as well as a slight crop. Then I opened it in Picoli to sharpen it. Between these apps I practically have photoshop on my iPhone!
These little trees/bushes are so cute that I saw at Raley's that I couldnt' resist. They were bone dry so I hope they make it. When my new office at work is finished I will have a window so I may take them there since they are so little but for the time being they are in my fern garden.
The names are from left to right: 'wilma' lemon cypress (cupressus macrocarpa), european olive (olea europaea), lavender, 'microphyllus' dwarf euonymus (euonymus japonica).